LSI Medience's service network covers the whole of Japan.
LSI Medience's main Laboratory is linked to 20 satellite labs and 57 branch offices around the country. Urgent tests are performed immediately at local labs around the country. There are also 6 other testing laboratories in Japan that cooperate with us. These tie-ups contribute to improving customer service. LSI Medience has an arrangement with each laboratory to provide mutual support in the event of a disaster.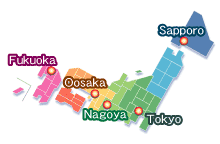 Main Office: 1-13-4, kanda, Chiyoda-ku, Tokyo 101-8517 JAPAN
Fax: +81-3-5577-0451
E-mail:
Please fill out the required information and click on the button 'Send'.

Offices & Laboratories
| | | |
| --- | --- | --- |
| | Number of offices | Number of labs |
| Hokkaido | 5 | – |
| Tohoku | 11 | 5 |
| Kanto/Koshinetsu | 17 | 8 |
| Tokai/Hokuriku | 9 | 4 |
| Kinki | 7 | 4 |
| Chugoku | 5 | – |
| Shikoku | 4 | – |
| Kyushu | 8 | – |